On the frontline: supporting residents in times of crisis
Assigned to the main COVID-19 ward at St Helier Hospital, social worker Allison's year has been full of a lot of highs - such as managing to get a couple home on their wedding anniversary - and a lot of lows.
"But we've managed to support each other and support the residents of Sutton," says Allison.
"Communicating with families is very important, because it's very difficult when they're unable to come into the hospital themselves."
Allison has used WhatsApp to connect patients with their families near and far - those living locally but unable to visit due to restrictions, as well as those in Canada, the US and Australia.
Melissa, a social worker for hospital discharge, has also mastered the use of technology: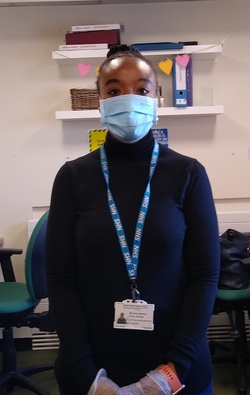 Melissa, Hospital Pathways Team
"These times are really difficult, but it's teaching me to be creative, for example by using different visuals on the computer when doing virtual mental capacity assessments."
As well as adapting how assessments are carried out, the type of support provided is being tailored to meet changing needs. "Since COVID-19, I'm seeing a shift - more younger patients are requiring support," says Melissa.
This challenging year has shown the importance of the caring profession and the invaluable support that people like Allison and Melissa provide to residents and their families in times of crisis - and beyond.
As well as preventing hospital admission and supporting hospital discharge, the team works with other health professionals to ensure that the right support is in place for patients to return home safely.
"We advocate for patients, both in the hospital and in the community," says Melissa. "We're a voice for those who don't have the strength."
---
More than 70% of our budget is spent on supporting Sutton's vulnerable children and adults. Following COVID, more and more residents are needing our help.
Find out how we plan to continue to protect those needing our care and support Sutton's recovery over the next 12 months.