Location

Central Road (Worcester Park)

Duration

6-month trial from June 2021

Bins to be removed

13 current dual recycling and litter bins, and 3 current single standard litter bins

Bins to be installed

X2 Big Belly recycling bins

X7 Big Belly litter bins

This will result in a net gain of 1700 litres of bin capacity.
Objectives of the trial:
In addition to the general benefits of introducing smart bins across the borough, we are looking for this trial on Central Road to:
Enable us to learn more about how bins in the Central Road area are being used.

Target resources to where they are needed most.

Reduce street clutter and improve the street scene on Central Road.

Ensure litter bins do not overflow, improving street cleanliness.

Reduce vehicle movements in the area, cutting pollution and lowering our carbon emissions.

Use compacting bins to reduce the number of collections made.

This trial will also be used to test options for the use of on-the-go recycling. The quality of recycling collected will be assessed as part of the monitoring of the trial.
Map of trial location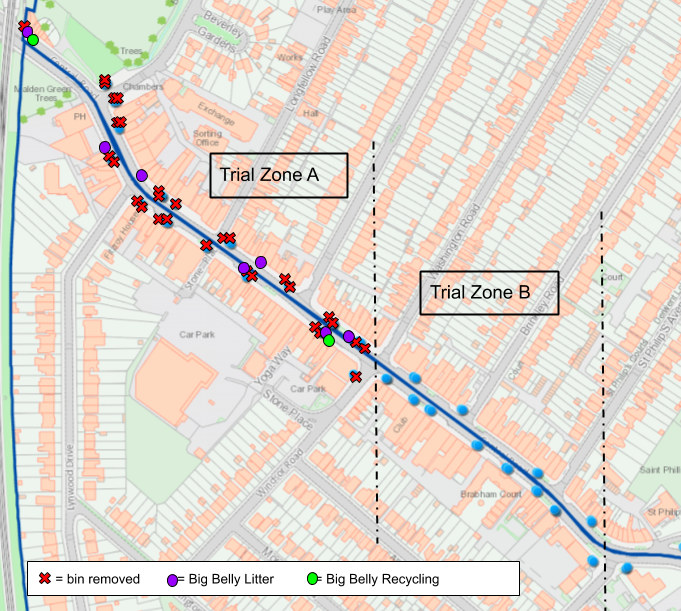 Monitoring and review:
We will be closely monitoring how the new bins are working during the trial period. Updates with key performance measures will be published on the Council's website.
Return to Sutton's Smarter bin page

Have your say:
We'd like to know residents' views on the litter bin trial taking place in Central Road. Complete the online survey here.