Sutton's Zero Carbon Energiesprong Retrofit Pilot Project
Funding has been secured for a pioneering zero carbon retrofit pilot project in Sutton.
In line with our ambitious climate change goals, homes across the borough will be transformed with the aim of achieving substantial reductions in:
energy consumption
carbon emissions, and
helping to improve the efficiency of properties
Partners
Sutton Housing Partnership (SHP)
Greater London Authority
British Gas via the energy companies obligation programme (Eco3i)
The Department for Business, Energy & Industrial Strategy
With project support from Energiesprong UK and Turner & Townsend
Sutton's Pilot Project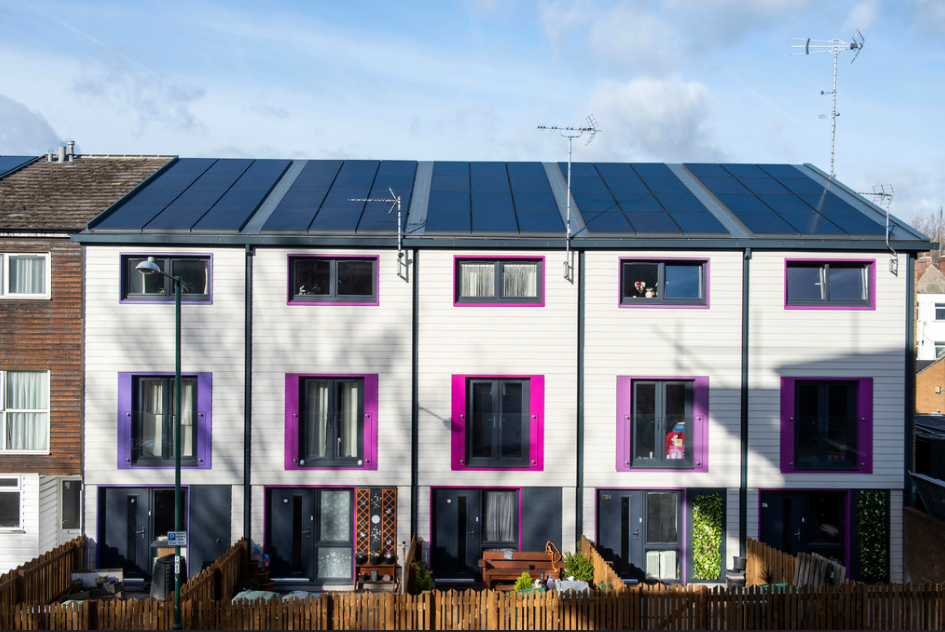 Pilot net zero homes from Nottingham's Energiesprong project
Using the innovative Energiesprong model, 100 SHP homes will have internal and external works carried out on them, focussing on the introduction of:
newly constructed and highly insulated wall and roofing systems
new High performance glazing systems
solar photovoltaic panels
new central heating and ventilation system
Initially, the pilot phase will deliver eight zero carbon retrofits in the Worcester Park and Coulsdon estates by Summer 2021.
The intention is to deliver an additional 92 homes, (subject to final cost negotiation) by the end of 2022 in the Coulsdon and St Helier estates.
The contract for delivery of the pilot phase has been awarded to Engie Regeneration Ltd.
Find out how the Energiesprong method works by watching their video.
Benefits
This pioneering retrofit will provide:
for residents: warmer, more energy efficient homes and lower energy bills (depending on their energy usage)
for the borough: a very useful learning opportunity for the extension of retrofitting opportunities across the Borough
for the planet: making a significant contribution to reducing the environmental impact of our housing stock by replacing fossil fuel heating systems with largely renewably powered systems
Contact
If you would like to find out more about this project:
Check the News section of our website for the latest developments on the project.