Who needs an EHC plan
A Local Authority will issue an EHC Plan if it considers that the special educational provision required to meet the needs of a child or young person (aged up to 25) with special educational needs and/or disabilities (SEND) cannot be reasonably provided from within the resources normally available to mainstream early years providers, schools and post-16 institutions.
Legal Tests
Request for an EHCNA (RTA) - section 36.8 CFA. The Local Authority must secure an EHC needs assessment for the child or young person if, after having regard to any views expressed and evidence submitted under subsection (7), the authority is of the opinion that -

a. The child or young person has or may have special educational needs, and
b. It may be necessary for special educational provision to be made for the child or young person in accordance with an EHC plan.

Request to issue an EHCP - Section 37 CFA 2014 (1) Where, in the light of an EHC needs assessment, it is necessary for special educational provision to be made for a child or young person in accordance with an EHC plan.
The majority of children and young people with SEND will be supported within their mainstream school through the graduated approach quality first teaching, targeted and personalised support.
If a parent or carer thinks that their child/young person has SEND, the SEND Team recommend that parents/carers
Talk to the class teacher/tutor.
Arrange a meeting with the school/settings SENDCo (Special Educational Needs and Disabilities Co-ordinator) to discuss concerns and support.
If the education setting/school thinks that the child/young person has SEND they should
Talk to parents/carers about their concerns and start to gather evidence such as reviews of outcomes and reports about the child's/young person's progress.
The setting/school should give the child/young person the support they need. This could include getting advice and support from specialists outside the school (such as the SEN Team and Speech and Language Therapist).
The SEN team will be responsible for the coordination of the EHC Needs Assessment. To support settings in making requests for EHC Needs Assessment they should first complete the Preparing to request an EHC Needs Assessment paperwork and attend the SEND Inclusion Forum. Settings will be able to evidence the targeted interventions they have provided with regard to the graduated approach document and EHC guidelines.
Requesting an EHC Needs Assessment
Parents/carers, or young people themselves when they are over 16, can ask us for an Education, Health and Care Needs Assessment as well as teachers at an education setting.
In order to request an assessment:
Should you require assistance with competing the All about Me as part of the request:
Assessments that lead to an EHC Plan
Information gathered during an EHC Needs Assessment may indicate ways in which the school, college or other provider can meet the child or young person's needs without an EHC Plan. In these cases the Local Authority will issue an EHC Needs Assessment report, setting out the key information obtained from the assessment and how the needs of the child can be met from resources within mainstream provision and other support set out in the Local Offer.
EHC Needs Assessment process diagram A text version of the diagram is available here.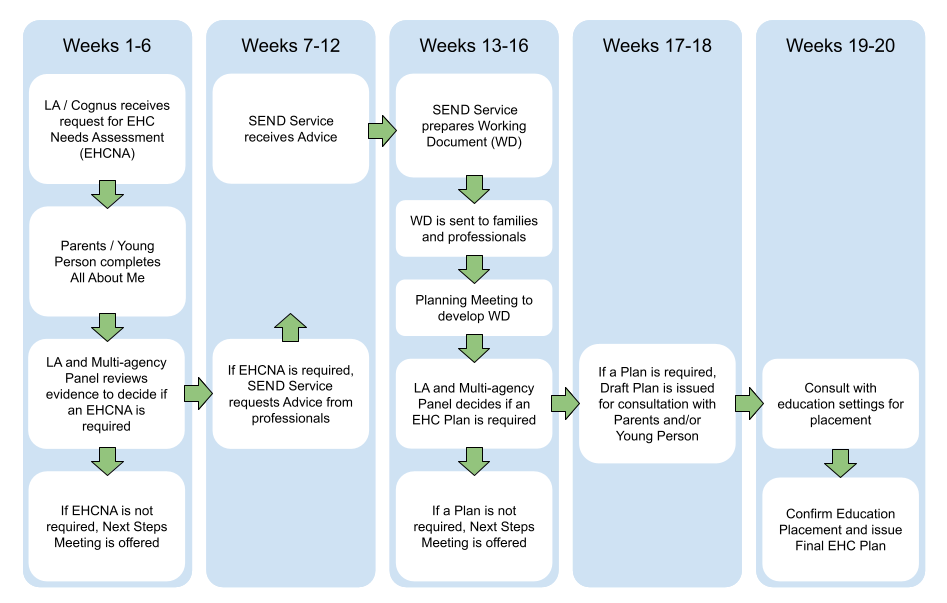 EHCP Coordinators
EHCP coordinators co-ordinate assessment and planning leading to timely, well informed decisions. They support families through the statutory processes (highlighted in section 9 of the Code of Practice 2015) which include requests for EHCNA, requests to issues EHCP, the drafting and issuing of EHCP, the identification of suitable educational settings, including at key stage transfer points, and the ceasing to maintain EHCP. They work in partnership with families and relevant professionals with a person-centred approach.
View an accessible version of the SEND EHCP Coordinators allocation.
24/03/2022