Walk with pride: new rainbow crossing in town
The crossing — at the junction of St.Nicholas Way and Hill Road — was chosen as a highly visible location by Sutton Central Library, Sutton College and Sutton Council Civic Offices. It acts as a gateway into the town centre, welcoming anyone on foot, bike, bus or car.
Every June, the LGBTQ+ community celebrates Pride month as a way of recognising the influence LGBTQ+ people have had around the world and to raise awareness of current issues facing the community. London Pride was due to take place on 27 June but was postponed due to the COVID-19 situation.
Sutton is marking Pride 2020 with its first rainbow crossing and will be flying the Rainbow Flag above the Civic Offices and in Trinity Square for a week up to 5 July.
The Sutton crossing is one of the few permanent rainbow crossings in London to celebrate the LBGTQ+ community. The new crossing comes as part of the Council's work to improve Sutton's streets. As schools are returning and businesses are reopening, a temporary cycle lane has also been created in St. Nicholas Way and around the gyratory to make cycling safer and easier. Pavements have also been widened at key locations in the town centre and new social distancing measures introduced in the High Street.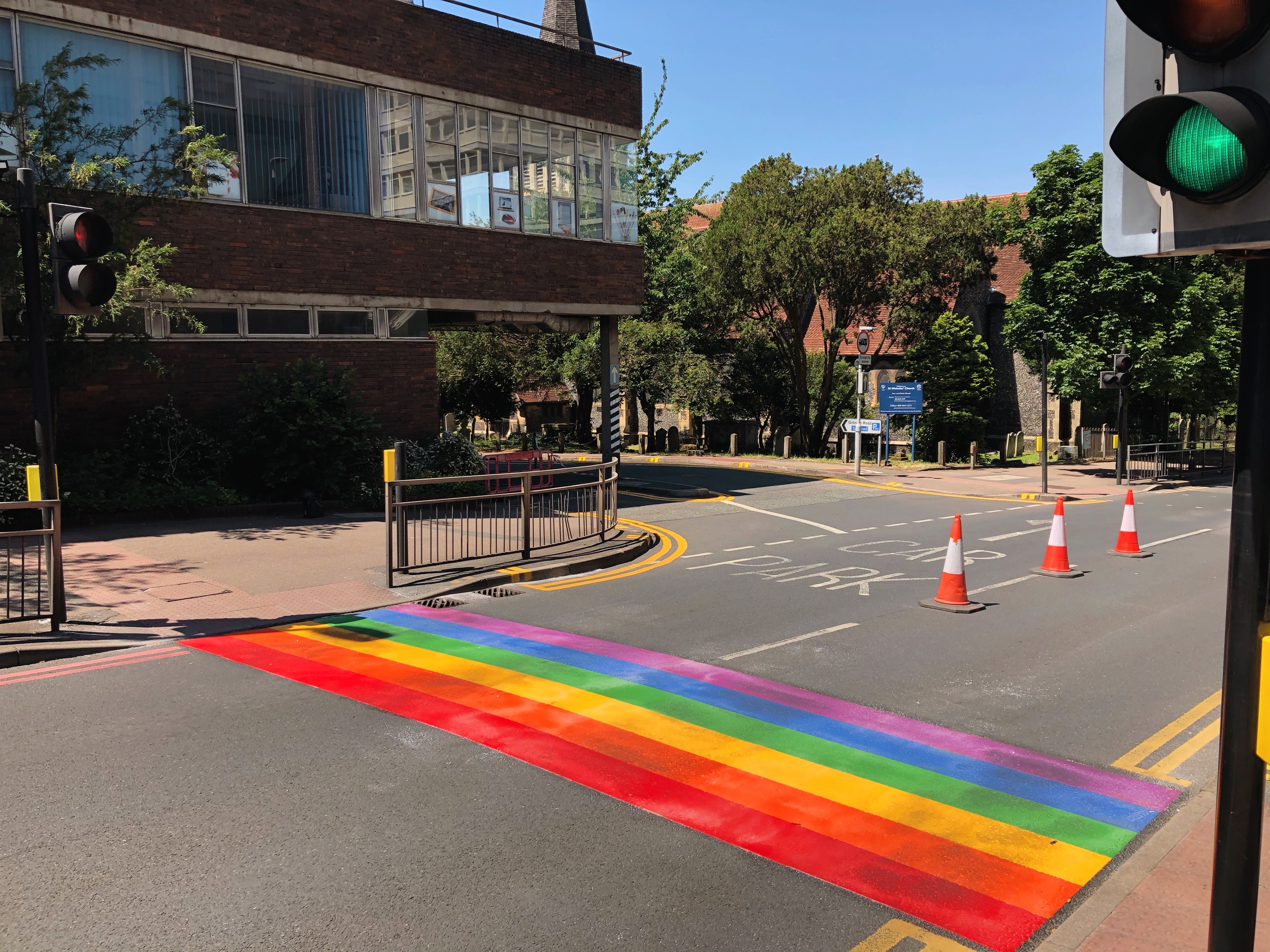 Councillor Jake Short, Sutton Council's Lead Member for Equalities, said:
"Pride Month has always been a hugely important month for me personally and the LGBTQ+ community. It is undeniably sad that we can't come together this month as a community and celebrate in person the advances to LGBTQ+ rights seen in this country.
"We must especially stand alongside our trans community and other minority groups. Pride has always been a protest, so while we may celebrate, we need to continue the fight for full equality."
Tyrone Ashby, Sutton LGBTQ+ Forum Chair, said:
"Having a rainbow crossing will show visitors to Sutton that we are signalling an inclusive environment for LGBTQ+ communities – we are showing our true colours as an open, diverse and accepting borough and we have Pride in our hearts."
More information on the Sutton LGBTQ+ Forum and their upcoming activities can be found on their website, and via their newsletter.