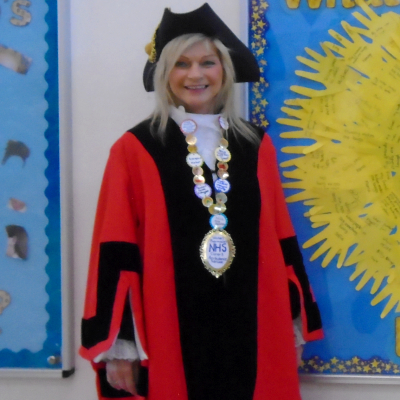 Councillor Trish Fivey - the current Mayor of the London Borough of Sutton
On Monday 23 May 2022, Sutton Council held its Annual Council meeting. Councillor Trish Fivey was re-appointed as the Mayor of Sutton for a third term of office.
Born in Enniskillen, Northern Ireland, and one of nine children, Councillor Trish Fivey has been a Sutton councillor since 2014. She has lived in the borough for over 40 years. She has brought up her two daughters and founded a number of successful businesses.
On her re-appointment, Councillor Fivey said:
"Now that things are back to normal, I am very much looking forward to the opportunity to complete a Mayoral year without interruptions or the cancellation of Mayoral events. I also feel passionate about visiting the local schools, which is a key role for the Mayor of the borough".
Councillor Stears has been appointed as Deputy Mayor for the next year.
Councillor Stears said: "Trish is an exceptional person with many qualities vital for this role. I very much look forward to our Mayoral year together."