Mayor's ceremonial accoutrements
Badge and chain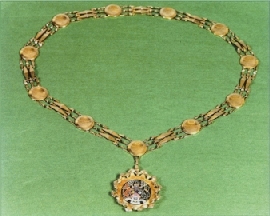 The Mayor's badge is in nine carat white and yellow gold. The faceted motif surrounding the Arms is designed to give prominence to the colour of the Arms. It also provides a rich looking border. A somewhat similar motif is introduced on the chain, the links being of a faceted type that is interspersed into the chain.
The chain and badge were donated by the first Mayor of the London Borough of Sutton, Alderman Andrew Letts.
Mace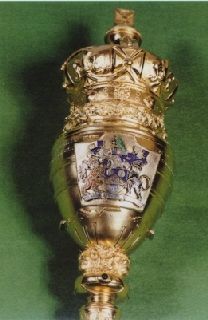 The Mace is of sterling silver-water gilt and handwrought, chased, engraved and enamelled. It weighs 13lbs and is 3ft 6in in length.
It is surmounted by the form of the English State Crown and terminates in the Orb and Cross. Decorations include:
the Tudor Rose and oak leaves
the head piece is supported by three lion heads of England
a jewelled boss bearing garnet, crystal and lapis gems in the national colours of England
The shaft is modelled laurel with a chased boss depicting the Rose, Shamrock and Thistle.
Coat of Arms
The Civic Arms were granted on 5 April 1966. The three parts of the shield represent the authorities that merged to form the London borough of Sutton. The gold and silver discs in the top third are from the arms of the Borough of Sutton and Cheam.
The keys symbolise the ownership of Sutton by the Abbey of Chertsey at the time of the Domesday survey. The Popinjay is from the arms of the Lumleys, former lords of the manor in Cheam. The black cross represents the See of Canterbury, which held Cheam from the time of Canute.
The base of the shield incorporates the shield of the Borough of Beddington and Wallington. It includes a Hannibal airliner to symbolise Croydon Airport.
Carshalton is represented in the chevron, with heraldic depictions of the ponds and oak trees. The double tailed lion and black greyhound are from the arms of former lords of the manor of Stone Court. The Borough's motto also incorporates elements from the earlier authorities. The motto - per adua in fide servite Deo - means: through difficulties serve God in faith.
The Civic Insignia of the Borough were made by Garrard and Co Ltd, the Crown Jewellers.
The Mayor's badge and chain were the gift of Alderman Andrew William Letts, who was Deputy Mayor of Sutton and Cheam in 1964. He became the first Mayor of the new borough in 1965.
The Mayoress's badge and chain were presented by Atomic Power Constructions Limited.
The Deputy Mayor's badge was the gift of Distillers Chemicals and Plastics Ltd (later BP Chemicals International). The Deputy Mayoress's badge was a gift from the late Mr Geoffrey Luff Ryder and the Sutton Branch of Nalgo. At the time of his death in 1964 Mr Ryder was Deputy Clerk of Carshalton Urban District Council.