Famous signpost returns to High Street
Sutton High Street's famous Crossroads cockerel sign is back to its glorious best after a full restoration. The historic landmark came down temporarily on 1 March for specialist work to be carried out.
The signpost originates from the public house called 'The Cock' owned by Gentleman Jackson, a former England boxing champion who lived between 1769 and 1845. The pub's sign, featuring a gilded cockerel, hung from a timber post on Sutton High Street.
By 1914 the pub had been demolished, but the sign was saved and moved a few metres along to its current home at the junction of the High Street and Carshalton Road. The original sign was replaced with an image of a cockerel. The familiar 'finger post' road signs were also installed highlighting Sutton's status as a significant crossroads and stopping point between London, Brighton, Banstead and Epsom Downs.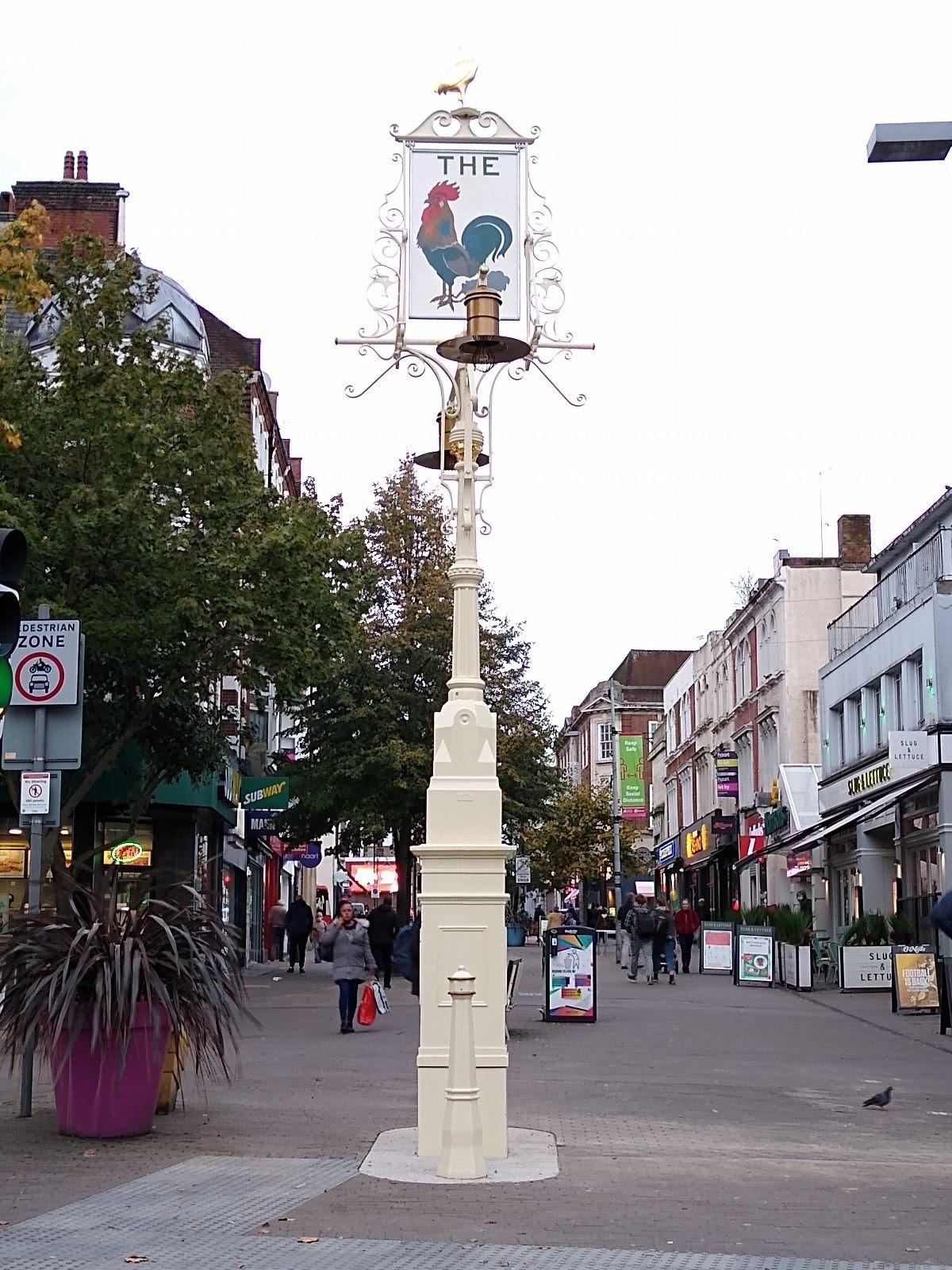 The restoration was carried out by Calibre Conservation and the work was match-funded by Historic England as part of the Sutton Town Centre Heritage Action Zone (Sutton HAZ).
The restoration work showed the sign's condition was much worse than previously thought. As part of the works, the conservation team decided to reinstate the design from 1914.
Cassandra Crawford, of Calibre Conservation, said:
"We have taken great care in preserving the lamp column's history for future generations.
"We are thrilled with the finished project and see it as a good example of how rigorous historic research can inform conservation."


Councillor Steve Penneck, Heritage Champion for Sutton Town Centre, said:
"I am delighted to see the sign restored to its former glory. It will draw High Street shoppers' attention to the heritage all around them.
"I hope they will pause and reflect on the significance of the crossroads, as well as think about how Sutton has developed as a town centre over the last two hundred years."

Richard Parish, Historic Places Adviser, Historic England, said:
"This much-loved local landmark is over 100 years old and, thanks to careful conservation, it's now been given a new lease of life.
"Sutton has a rich seam of Victorian buildings and structures, and the Heritage Action Zone has served to celebrate and look after these historic places at the heart of the community, so that they can be enjoyed by many more generations."


For more information, email pressoffice@sutton.gov.uk


Notes to editors


About Historic England
Historic England is the public body that helps people care for, enjoy and celebrate England's spectacular historic environment, from beaches and battlefields to parks and pie shops. They protect, champion and save the places that define who we are and where we've come from as a nation, so that everyone can keep enjoying and looking after the history that surrounds us all.