School sessions
Sutton Ecology Centre is your local Environmental Education provider!
We aim to provide inspiring places to deliver the National Curriculum, encourage children and young people to develop an interest in the natural world, give children a chance to discover Sutton's nature in a safe environment and teach using a variety of different learning styles to include all students.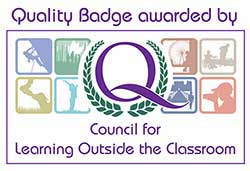 Sutton Ecology Centre has been awarded the Learning Outside the Calssroom Quality Badge. The LOtC Quality Badge provides assurance to teachers and parents regarding the safety and quality of teaching, and is the only nationally recognised indicator of good quality educational provision AND effective risk management.
For more information about the benefits of using a provider who holds this badge, please visit http://www.lotc.org.uk/lotc-accreditations/lotc-quality-badge/.
Education sessions usually last 2 hours, and are available both at Sutton Ecology Centre Nature Reserve and at a Green Space near you. We make learning fun and interactive through hands-on investigation, with games and activities in a safe stimulating outdoor environment. All our educational programmes are designed to link in closely with the National curriculum.

To make a booking or for further information, phone our education team on 020 8770 5820, or email us on biodiversity@sutton.gov.uk.

Planning your visit:
school sessions are available on Mondays and Thursdays 10.00 am-12.00 or 12.45-2.45pm
all sessions must all be booked in advance
we can teach a maximum of 35 children at any one time
teachers can also teach their own class in our grounds with our equipment (DIY), we require teachers to come on a pre-visit
Community groups
We no longer run community group sessions. If you are interested in Forest School sessions please contact Wildlings Forest School, who run forest school sessions at Sutton Ecology Centre, at this link https://www.facebook.com/wildlingsforestschool/.