We have a team of dedicated Environmental Enforcement Officers who patrol the streets of Sutton. They identify, investigate, and take enforcement action against fly-tipping and other environmental offences.
The uniformed officers are provided by our enforcement partner, Kingdom Services Group. They work alongside Sutton Council Enforcement Officers to tackle the problem of fly-tipping in the borough.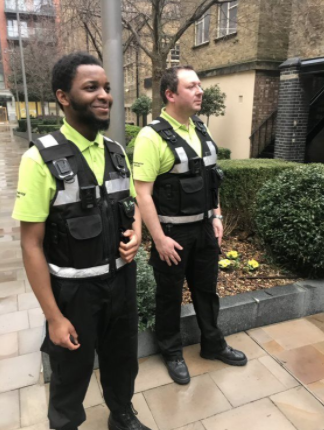 Kingdom Enforcement
The team of uniformed Enforcement Officers cover the entire borough. They focus their attention on known fly-tipping hotspots.
They are instructed to patrol and enforce proportionately. They should always be approachable to members of the public. They also act as a visible deterrent to offenders.
All uniformed Enforcement Officers have body-worn cameras. They are activated when the officers are talking to people committing offences. This protects both the public and the officers.
The officers focus on fly-tipping, but they also look for other environmental crimes.
This includes:
littering (£150 on the spot fine)
dog fouling (£80 on the spot fine)
bins left out on the highway on non-collection days (£60 fine)
businesses duty of care (£300 fine)
Fines and prosecution
The Enforcement Officers have the power to issue £400 on-the-spot penalty fines. These are for people who fly-tip waste on public footpaths and highways.
The majority of offences will be dealt with via a Fixed Penalty Notice (FPN).
Larger fly-tips or repeat offenders may be prosecuted. The Courts view fly-tipping as a serious criminal offence.
Judges have various powers available to them to tackle it, including:
imprisonment
unlimited fines
order to deprive rights to a vehicle used to commit the offence
Complaints about the actions of the Enforcement Officers
If you're concerned with the way you were treated by the Enforcement Officers, you have to make a formal complaint through Sutton Council's complaint procedure.
Complaints raised through this route do not impact any FPN itself. You will still need to pay the penalty within 14 days to avoid prosecution action being taken through the courts.