SuDS in Sutton Schools
Sutton Council is working in partnership with the South East Rivers Trust (SERT) to install Sustainable Drainage Systems (SuDS) in Sutton Schools.
SuDS act to slow the rush of surface water run-off (eg. rainwater) into our drains reducing flood risk in the local area. The SuDS in Sutton Schools project has identified local areas of flood risk and selected nearby sites, particularly schools, that, through the installation of SuDS, will directly lower flood risk in the target area.
The SuDS will also improve water quality in the River Wandle, whilst the installation in schools, including features such as rain gardens and planters, will provide interest and biodiversity benefits as well as opportunities for outdoor education.
This summer, 2019, saw the installation of SuDS at Muschamp Primary School and Harris Junior Academy in Carshalton. These SuDS will protect properties at flood risk in Hackbridge as well as addressing on-site flooding issues at the schools.
Pupils as Muschamp Primary School recently enjoyed planting their new planters with SERT's Education and Community Outreach Officer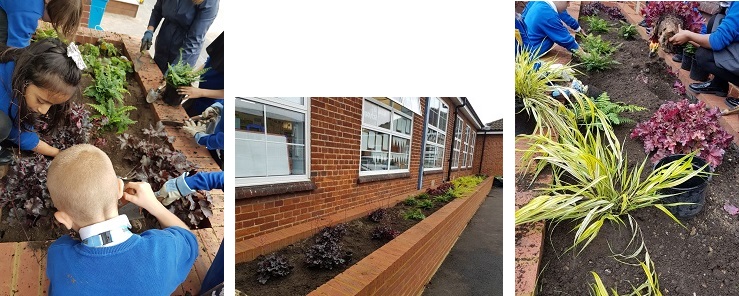 Pupils from Muschamp Primary planting their new SuDS planters
Learn more about the SuDS and the SuDS in Sutton Schools project here:
https://www.southeastriverstrust.org/sudsinschools/
Watch this great short video, made by local pupils, to better understand SuDS and their benefits.
https://www.youtube.com/watch?v=Iu958IlePec
We are grateful to our core funders on this project, The Environment Agency, Thames Water, the Greener City Fund, Thames Restoration Fund and the Natural Flood Management community programme.
Get involved
Creating simple SuDS can be very straightforward! If you're interested in how to install SuDS contact sustainability@sutton.gov.uk. You can see an example of a rain garden outside the Council Offices on Denmark Road, Carshalton.