We have a team of dedicated Environmental Enforcement Officers who patrol the streets of Sutton. They identify, investigate, and take enforcement action against fly-tipping and other environmental offences.
The uniformed officers are provided by our enforcement partner, Kingdom Services Group. They work alongside Sutton Council Enforcement Officers to tackle the problem of fly-tipping in the borough.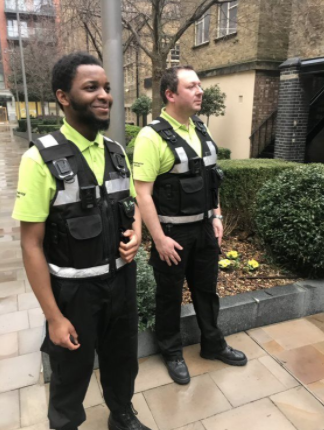 Kingdom Enforcement
The team of uniformed Enforcement Officers cover the entire borough. They focus their attention on known fly-tipping hotspots.
They are instructed to patrol and enforce proportionately. They should always be approachable to members of the public. They also act as a visible deterrent to offenders.
All uniformed Enforcement Officers have body-worn cameras. They are activated when the officers are talking to people committing offences. This protects both the public and the officers.
The officers focus on fly-tipping, but they also look for other environmental crimes.
This includes:
littering (£150 on the spot fine)
dog fouling (£50 on the spot fine)
bins left out on the highway on non-collection days (£60 fine)
businesses' duty of care (£300 fine)
Fines and prosecution
The Enforcement Officers have the power to issue £400 on-the-spot penalty fines. These are for people who fly-tip waste on public footpaths and highways.
The majority of offences will be dealt with via a Fixed Penalty Notice (FPN).
Larger fly-tips or repeat offenders may be prosecuted. The Courts view fly-tipping as a serious criminal offence.
Judges have various powers available to them to tackle it, including:
imprisonment
unlimited fines
order to deprive rights to a vehicle used to commit the offence
How to challenge a Fixed Penalty Notice
There are no formal grounds for appeal against a Fixed Penalty Notice (FPN).
This is because an FPN is issued as an alternative to being prosecuted for the offence that's been committed. By paying the penalty you discharge your liability for the offence.
Alternatively, you have the right not to pay the FPN and defend yourself in the Magistrates Court.
Complaints regarding an FPN and when we would consider cancelling an FPN
We would consider cancelling an FPN:
If the FPN shouldn't have been issued because the offender is under 18
If the person can't understand that they committed an offence
If there are significant extenuating circumstances that temporarily affect the ability of the alleged offender to comply with the law
Step 1
If you feel these apply to you or the person who received the FPN, the initial point of contact is to email sutton.council@lasupport.co.uk. Kingdom Local Authority Support will consider your case accordingly and a written response will be provided within 14 days.
No legal proceedings will initiated until a response has been sent to you.
Step 2
If you are not satisfied with how your complaint has been handled, you can contact the Council directly to register a complaint. Any complaints received by the Council will be treated in accordance with the Council's corporate complaints process.
Reasons for complaint may include but not be limited to:
If you are concerned with the conduct of any Enforcement Officer
If you believe there may be legal grounds for challenge
If you feel that you may be exempt from prosecution
If you are not satisfied with the way in which your case has been handled by Kingdom Local Authority Support
You can contact the Council directly by submit your complaint along with any supporting documents via email or write to us at: Sutton Council, Civic Offices, St Nicholas Way, Sutton, SM1 1EA.
No legal proceedings will be initiated until a response has been sent to you.
What you can expect from us during the complaints process
Council Officers will independently review your case fairly without prejudice and will contact you with our findings.
We will listen to and take your complaint seriously
We will deal with your complaint fairly
We will tell you how long our investigations will take
We will apologise if we have done something wrong and tell you how we will put things right
We will keep all information about you confidential
Council Complaints process
1. Stage 1 Complaint
Once you've submitted your complaint, we will let you know that it's been received within 5 working days.
Complaints will be investigated and a response will be sent to you within 20 working days.
2. Stage 2 Complaint
If you are unhappy with the response from Stage 1, you have 28 days to request a Stage 2 review.
You will need to email or write to us explaining why you are dissatisfied and this request will then be reviewed by a senior council officer who has not been involved in your case before to reconsider your complaint.
We will send you a response within 20 working days or tell you if it will take longer and let you know when you can expect a full reply.
3. Refer to Local Government Ombudsman
If you are not happy with the outcome of your Stage 2 complaint you can refer your complaint to the Local Government Ombudsman.
At this stage, any Fixed Penalty Notice will need to be paid in full to avoid further legal action being taken.